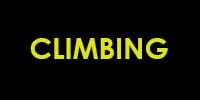 If we go back to our childhood memories, we will recall infinite times that we tried to travel through another dimension by climbing on trees, fences and walls, to overcome all obstacles, conquer our fears and surpass our limits.
The effort to reach and conquer everything that stands beyond us is part of our nature. The most evolved and organized form of this effort is climbing, in all of its forms: on rock, ice, artificial wall, trad, sport, boulder.
Whatever you choose to experiment, Extreme Paths is here to give you guidance and guarantee the safest beginning and progress.
Climbing is our natural environment, constantly interacting, researching and evolving in it.
Η περιπέτεια είναι ένα βιβλίο που όσοι δεν ταξιδεύουν διαβάζουν μόνο μία σελίδα