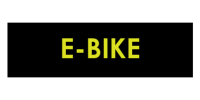 You don't have to think twice on an E-bike. It is 100% guaranteed that you can go everywhere. It is the bridge that takes you to the other side, no matter how experienced or fit you are. With an e-bike you can level up, cover long distances, gain altitude, have fun and share moments of adventure with friends of different biking level.
E-biking is the best way to improve your physical condition and mental health, while enjoying the beauty breathtaking landscapes with a unique sense of freedom. Steep slopes and uphill trails are now a piece of cake.
Just find a group of friends you want to share this experience with, and enjoy the beauty of nature on an e-bike.
Adventure is a book that non-travelers read only one page